COME JOIN ME FOR MY NEXT RETREAT IN TUSCANY, ITALY
5-9TH AUGUST 2022
"What I want to create together on this retreat is an opportunity to allow ourselves to step into our feminine expression. Weaving words, yoga, nature, cooking, dance, flowers and creativity with one another. I want to create a culture and a community. A space where we can experience joy and deep rest in the same breath"
LET LOVE, BE LOVE IN ME. THE SIMPLEST YET MOST POWERFUL COMMITMENT TO YOURSELF EVER.
Your eyes flutter open to the beautiful circle of women who have taken this journey with you. The breeze from the mountain ranges gently stirs your hair as a butterfly floats by. Birds are heard calling to their mates. You feel the warmth of the sun on your body, and you are completely relaxed. Resetting your nervous system, so that the magic of YOU begins to flow. Your heart is expending every moment you're here and you are forming a rich relationship with your unique self and the people around you.
MEADOWSWEET RETREAT @meadowsweetretreat
We will spend our time at the beautiful estate of Castellodi Fosini. Once a thriving crop sharing village centered around a castle, Fosini oozes character and old Italian heritage. During the retreat, you will stay in tastefully restored farmhouses, cottages and luxury bell tents in the meadows. The design allows the luminous energy of nature to blend seamlessly with the spacious interior landscape of calming green and soft natural hues, a stone-carved fireplace and creamy stone floors throughout.
WHAT'S INCLUDED
4 nights accommodation at a beautiful 2000 hectare nature reserve in Tuscany
Full catering of plant-based meals, homemade snacks & healing beverages
Daily yoga including Vinyasa, Hatha, Yin & Beauty Yoga
Meditation & embodied movement
Crystal bowl healing
Self care bundle: Self love journal, sally mustang yoga mat, My New World drink bottle.
Ecstatic dance with ceremonial cacao
Italian cooking class
Hikes in surrounding hinterland and waterfalls
Flower alters and offerings
Ceremonial cacao and ecstatic dance
Wild nature beauty down at the river with natural clay, facial reflexology, body contouring & other honouring practices.
Private waterways and waterholes to swim in
Daily journaling & honouring noble silence
Foraging & plant identification walks & wild nature medicine making
Nourishing Connection, form friendships with like-minded individuals
OPTIONAL EXTRAS
1:1 A private self-embodiment photo shoot
Massage / body work / spa treatments
*All extras can be arranged closer to the time so no need to decide now
Retreat costs: solo and shared accommodation options available at various rates please specify on application form what you would prefer.
"I went into the retreat with few expectations, and to say this retreat has changed my life is an understatement. I have met a group of incredible women around the globe, connected with my femininity, and opened my heart to self love and appreciation. It was a week of pure magic."
- Louise Brooke.
"I have been on retreats before, but this was something else... 'Magic' is the word that first comes to mind and after getting to know Sally I think it's pretty apt! Sally brought together the most beautiful energies (herself, Yin Yoga teacher Sarah and EFT & Manifestation GuruTeddy) to create five full yet flexible days of energizing and regenerative, soul-nourishing activities. I couldn't have imagined a better setting than the lush and tranquil eco resort she had chosen in the Balinese mountains. A private waterfall just a short walk away for swims after morning yoga... bliss. All food was picked fresh from the gardens and prepared and served by the most beautiful staff. Sally clearly has a gift for bringing together the perfect elements to create intimate and empowering retreats - I would recommend them to anyone that feels the call."
- Jodi Plumbley.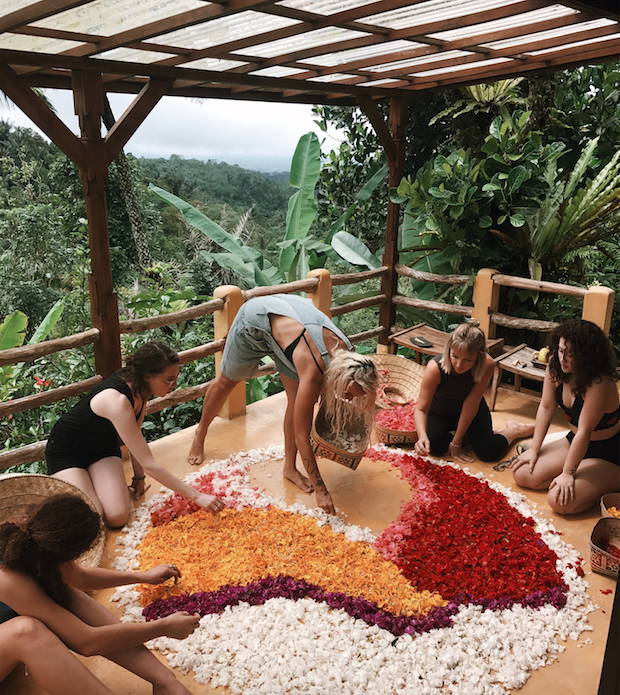 "I came across Sal's retreat by pure chance and immaculate timing. I can't even begin to explain how rewarding this experience can be for those whom immerse into this journey. It's magic how a week of stepping back, connecting with others and seeing true worth in yourself can ultimately change your life. Sal's flow, Sarah's yin, sound healing with Xoe and tapping with Teddi are some of the amazing things you will come across during your time on the retreat. In all this magic you just happen to be in a mecca of nature at Bali Eco Stay, a property located deep in the balinese jungle, abundant with wildlife and chi flowing through each water way/waterfall. They prepare fresh organic vegetarian food, which is picked on demand and is grown with permaculture methods. Sally nurtured all of us during this journey and has this way of creating a space for freedom, creativity and wild flow."

- Hannah Valente.
"When I first decided to go on the retreat with Sally, it was very spur-of-the-moment. I needed a getaway and it thought what better way to get away than with a yoga teacher whom i've admired for a while. I expected this to be an amazing trip and experience of travelling, but what i got was so much more. The energy Sal and the other teachers gave off was vibrant and inspiring. These people have chosen a way of life that I see as the truest way of living. I felt could see right inside each of them when they spoke and could tell there is no hiding in any of them -unapologetically themselves! I was also able to get a tattoo fromPeri, the amazing hand-poke tattoo artist. Her ritual took me to another place where I felt I was truly finding my path. She took into consideration all the things of importance to me and now I have an incredible physical representation of it on me forever. This trip has completely taken my shell away and I am more myself than I have ever been. I'll never be the same again, and I have Sally and her amazing friends to thank for that."

- Hannah Griego.